All Things Natural, with Nigel Collis

All Things Natural is the name of Nigel's Health Store in Westgate Auckland. He jointly owns this business with Alecia Bunting. They also do Spiritual Tours together.
The shop holds a full range of Natural Health Product, Ethnic, New Age Gifts and hand picked Crystals from India and Brazil.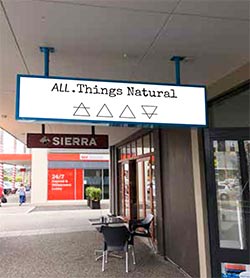 Phone: 09 831 0304, email necollis@wave.co.nz.
Alternative therapies
Elohim Healing
Massage
Reflexology
Crystal Healing
Past Life Regression
Soul Retrieval
Hypnotherapy
Smoking/Weight Loss/Phobias
Animal Healing
Intuitive Counselling - Grief, Depression, Relationships
Price List
Healings - $80 1 hour
Readings - $50 ½ hour, $80 1 hour
Massage - $50 ½ hour, $80 1 hour
Reflexology - $80 1 hour
Hypnotherapy - $110 1½ hours
Past life regression - $110 1½ hours
Soul Retrieval - $110 1½ hours